HEINEKEN Vietnam proves that business success and sustainability go hand-in-hand by being named the 1st sustainable manufacturing company in Vietnam
2017-12-19 09:22:58

PRESS RELEASE
HEINEKEN VIETNAM PROVES THAT BUSINESS SUCCESS AND SUSTAINABILITY GO HAND-IN-HAND BY BEING NAMED THE 1ST SUSTAINABLE MANUFACTURING COMPANY IN VIETNAM
•    HEINEKEN Vietnam is recognized as the 1st sustainable manufacturing company in Vietnam

•    HEINEKEN Vietnam's sustainability efforts generate shared values for its business and the local community, contributing to the Vietnam's national sustainability agenda & United Nations Sustainable Development Goals (UN SDG)

HANOI, December 07, 2017 – At the Announcement Ceremony of Sustainable Businesses in Vietnam 2017 on December 06 in Hanoi, HEINEKEN Vietnam was recognized as the 1st sustainable manufacturing company in Vietnam.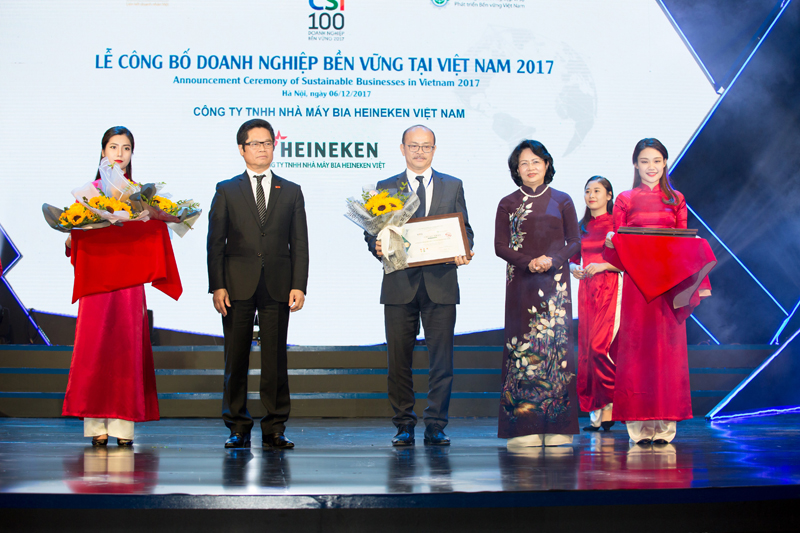 The Announcement Ceremony is part of the Programme on Benchmarking and Ranking Sustainable Companies in Vietnam initiated by the Vietnam Business Council for Sustainable Development (VBCSD) under the guidance of the Vietnam Chamber of Commerce and Industry (VCCI). This is the second year VBCSD has organized this program and received almost 500 applications from the business community. Despite the significantly higher number of applications this year, HEINEKEN Vietnam has improved its previous ranking to go from being the third to the 1st sustainable manufacturing company among the 100 most sustainable companies in Vietnam.
HEINEKEN Vietnam was selected as the leading company on CSI ranking  due to its significant achievements in 2017. HEINEKEN Vietnam made a significant economic contribution to Vietnam, approximately 0.75% of the nation's GDP, as well as focusing on green growth by using carbon-neutral initiatives such as using biomass to create thermal energy for brewing. It also prioritises using Vietnamese suppliers wherever possible and by doing so adds nearly 200,000 extra jobs in Vietnam. HEINEKEN Vietnam has shown strong commitment to advocate responsible drinking in Vietnam by implementing impactful campaigns such as the Responsible Drinking campaign at Tiger Wall events. Additionally, HEINEKEN Vietnam Brewery in particular is one of the most long-standing, stable and successful joint ventures in Vietnam with its partner SATRA Group for 26 years.
The Ceremony was attended by Ms. Dang Thi Ngoc Thinh, Vice State President of Vietnam; Mr. Vu Tien Loc, Chairman of VCCI and other Government officials from the Ministry of Labour, Invalids and Social Affairs (MOLISA), the Ministry of Industry and Trade (MOIT), the Ministry of Natural Resources and Environment (MONRE), the Vietnam General Confederation of Labour (VGCL), other Government agencies and 600 representatives from national and international organizations, the business community and the media.
The Corporate Sustainability Index (CSI) has been used as the base criteria for ranking and celebrating the most sustainable companies in Vietnam since 2016. It is aimed at promoting sustainable development in the Vietnamese business community and has been developed as a gauge of corporate values based on sustainable development criteria in the fields of the economy – society and environment.
"We are honoured to receive this prestigious recognition for HEINEKEN Vietnam's continued effort and commitment to "Brewing a better Vietnam" throughout our 26-year journey in Vietnam," said Mr. Tran Minh Triet, Deputy Managing Director, HEINEKEN Vietnam. "This is such a remarkable source of inspiration for all of us at HEINEKEN Vietnam. We look forward to continued support and direction from the Government for sustainability-conscious organizations so that we can further integrate sustainability in our overall business contributing even better to the sustainable development of Vietnam."
At the recent Vietnam Corporate Sustainability Forum (VCSF 2017) held earlier this October in Hanoi, HEINEKEN Vietnam was recognized by representatives from the Government and the business community as an excellent example of applying sustainable business practices to its operations. Its sustainability accomplishments have brought positive impact on People, Planet and Prosperity in Vietnam, in line with the UN SDGs.
At the Forum, as a corporate thought leader on sustainability, HEINEKEN Vietnam shared its success story on how driving the sustainability agenda has helped its business and the community grow together. Key to this is creating an inclusive value chain such as circular economy ideas; and transparency and integrity in business & sustainability reporting.
HEINEKEN Vietnam's sustainability agenda focuses on six key areas: Promoting Responsible Drinking, Protecting Water Resources, Reducing CO2 Emissions, Supporting our Communities, Sourcing Sustainably (including locally wherever possible), and promoting Health and Safety.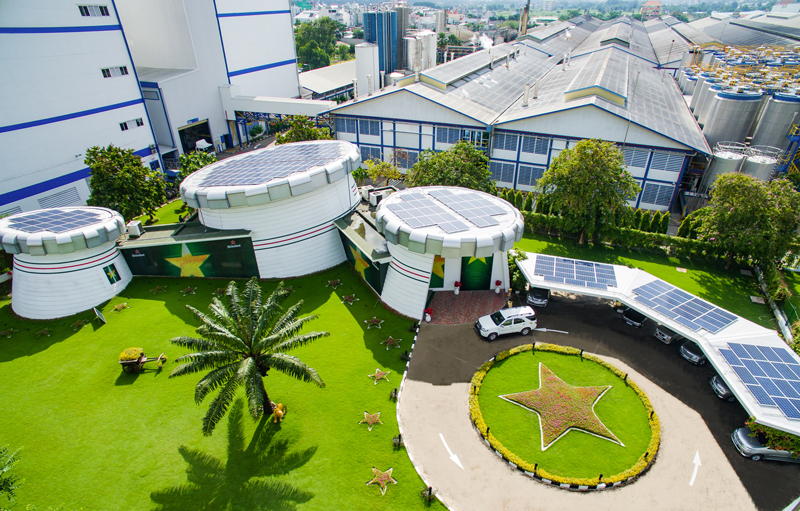 About HEINEKEN Vietnam
HEINEKEN Vietnam comprises HEINEKEN Vietnam Brewery Company Limited and HEINEKEN Hanoi Brewery Company Limited. Originally established in 1991, HEINEKEN Vietnam Brewery Limited Company (formerly Vietnam Brewery Limited) is a joint venture between Saigon Trading Group (SATRA) and HEINEKEN. HEINEKEN - a family-owned business with a history of over 150 years, is one of the world's leading international brewers that brews and distributes over 250 beer & cider brands in more than 180 countries.
In Vietnam, The Company brews and trades Heineken, Tiger, Larue, Desperados, Affligem beers and Strongbow Cider. There are 6 breweries of HEINEKEN in Vietnam, in District 12 – Ho Chi Minh City, Quang Nam, Da Nang, Tien Giang, Vung Tau & Hanoi.
Today, HEINEKEN Vietnam Brewery is one of the most long-standing and successful joint ventures in Vietnam. HEINEKEN Vietnam Brewery makes a significant annual economic contribution to Vietnam, approximately 0.75% of the nation's GDP. The company focuses on using Vietnamese products wherever possible and adds nearly 200,000 extra jobs in Vietnam.
Please visit the link below to access HEINEKEN Vietnam's 2016 Sustainable Development Report for more information: www.heineken-vietnam.com.vn/en/sustainability/sustainability-report/
---------------------------------------------------------
For more information, please contact:
Ms. Nguyen Van Anh
Head of Communications
HEINEKEN Vietnam
Company-Phone: +84 28 3822 2755 - Ext: 124
Email: NguyenVan.Anh@heineken.com